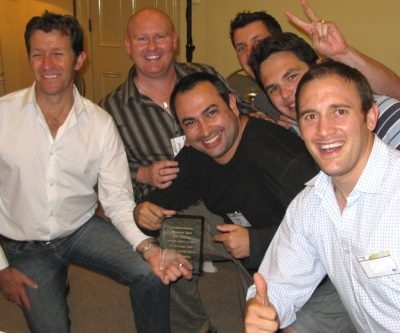 Team Building Activities – Corporate events and Conference Evening Entertainment
Teammania offers you indoor team building activities and conference dinner entertainment activities that develop better performing teams with improved morale and communications. While many clients opt to have their team bonding events over dinner, others prefer the afternoon. The choice is yours.  If you would like some suggestions to improve your client relationships then Teammania can help you.
By clicking the navigation buttons above, you can discover how games of strategy and negotiation (also referred to as business simulation activities), a murder mystery event, or a whacky game show might be perfect for your next conference.
Perhaps you're looking for a corporate live band that knows how to entertain as well as they play, then you have struck gold! All these great conference entertainment and team bonding ideas lie within the Teammania website.
Founded in 1989 as Dial M Events, Teammania is Australia's premier interactive corporate team bonding and conference entertainment company that gives you the double benefit of team building results, in Australia and around the world. Thousands of companies in Australia, South East Asia and the USA have benefited and enjoyed their Teammania event. When it is time for you to invest in your team, your most important resource, then drop us a line by phone or email, and we'll make sure you get the results you're looking for.